1 Thought of the Week
It's really sad and annoying to observe that Europe aims to be the next China regarding mass-surveillance. Backdoors in private messaging apps will also fire back at those who are now in favor of these new legislations. Countries like Germany and Austria should actually know better, but it seems we haven't been learning from our dark history. I'm thankful for all the "Cypherpunks who write code" as Eric Hughes put it in his Cypherpunk manifesto from 1993.
---
2 Quote of the Week
"Privacy is necessary for an open society in the electronic age. … We cannot expect governments, corporations, or other large, faceless organizations to grant us privacy … We must defend our own privacy if we expect to have any. … Cypherpunks write code. We know that someone has to write software to defend privacy, and … we're going to write it." - Eric Hughes, A Cypherpunk's Manifesto, 1993
---
3 Chatcontrol:
Eu

Parliament Approves Mass Surveillance of Private Communications

On July 6th, the European Parliament approved the ePrivacy Derogation, allowing providers of e-mail and messaging services to automatically search all personal messages of each citizen for presumed suspect content and report suspected cases to the police.

German Pirate Party Member of the European Parliament Patrick Breyer, shadow rapporteur on the legislative proposal, comments on his website: "The adoption of the first ever EU regulation on mass surveillance is a sad day for all those who rely on free and confidential communications and advice, including abuse victims and press sources. The regulation deals a death blow to the confidentiality of digital correspondence. It is a general breach of the dam to permit indiscriminate surveillance of private spaces by corporations — by this totalitarian logic, our post, our smartphones or our bedrooms could also be generally monitored. Unleashing such denunciation machines on us is ineffective, illegal and irresponsible.

Indiscriminate searches will not protect children and even endanger them by exposing their private photos to unknown persons, and by criminalising children themselves. Already overburdened investigators are kept busy with having to sort out thousands of criminally irrelevant messages. The victims of such a terrible crime as child sexual abuse deserve measures that prevent abuse in the first place. The right approach would be, for example, to intensify undercover investigations into child porn rings and reduce of the years-long processing backlogs in searches and evaluations of seized data."

In today's vote, 537 Members of the European Parliament approved Chatcontrol, with 133 voting against and 24 abstentions.[1] According to police data, in the vast majority of cases, innocent citizens come under suspicion of having committed an offence due to unreliable processes. In a recent representative poll, 72% of EU citizens opposed general monitoring of their messages.[2] While providers will initially have a choice to search or not to search communications, follow-up legislation, expected in autumn, is to oblige all communications service providers to indiscriminate screening.

Furthermore the European Commission has already announced a follow-up regulation to make chat control mandatory for all email and messaging providers. Previously secure end-to-end encrypted messenger services such as Whatsapp or Signal would be forced to install a backdoor.
What a terrible decision! I'm appalled by the fact that so many politicians - representing the people - are in favor of mass-surveillance. These Stasi and Nazi methods are already in place in China. Now they are back in Germany, Austria and in the EU. Backdoors in messenger services equals to an investigator standing next to you while you're talking with friends and family. This abhorrent idea is coming into reality in our digital life. We need to build, use and preserve solutions like Mastodon, Sphinx and Bitcoin, decentralized tools for free speech that cannot be taken down. In last weeks newsletter I mentioned Adam Back explaining why it's a terrible idea to have a back-door in Bitcoin and other cryptographic software.
---
4 Bitcoin Users Find Ways Around Government Bans
Nigeria's regulators tried to crack down on cryptocurrency. Now, a few months later, it's clear their efforts haven't worked. People switched to peer-to-peer transactions without using intermediaries. A common practice that I have been noticing in Zimbabwe too. People connect in Telegram or WhatsApp groups to find partners to exchange bitcoin to USD or the other way around.
The dollar volume of crypto received by users in Nigeria has been consistently growing in 2020 and 2021, which may be partly related to this year's bull market. In May, Nigeria received $2.4 billion worth of crypto, compared with $684 million last December, a Chainalysis report says.
Last fall marked a surge in bitcoin interest, when the Nigerian Feminist Coalition and activists started the "EndSARS" movement to protest against police brutality. When the Feminist Coalition's bank accounts were frozen by authorities they switched to collecting bitcoin donations. Damilola Odufuwa, part of the Feminist Coalition and Binance's spokeswoman in Africa, was discussing the repercussions against women in Nigeria with me.
Odufuwa told CoinDesk that Africa has seen a wild 386.93% increase in P2P trade volumes on Binance since January. The user count across the continent grew 2,228.21% over those same four months, she added.
Another reason for the surge in Bitcoin adoption is the Nigerian naira's inflation rate of 18%. While U.S. dollars might be hard to obtain in Nigeria, bitcoin sometimes serves as a proxy for the dollar, allowing people to hedge against naira's inflation.
32% of Nigerian respondents to a survey said they used or owned cryptocurrencies in 2020. In my upcoming book "(L)earn Bitcoin" I'm discussing this and the fact that the average age of Nigerians is 19 years.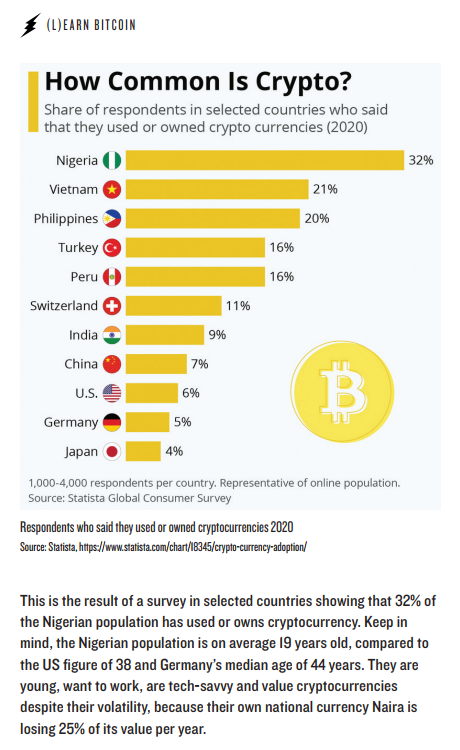 Governments can ban banks to facilitate Bitcoin transactions and they can outlaw proof-of-work. This won't stop people from using it. With more institutions and countries using Bitcoin we'll reach an interesting mix of pro and cons. I'm sure that the Cypherpunks will be ahead of the game, writing code faster than regulators can bring down monetary freedom.
---
5 Sending Bitcoin Offline Is Possible
A ban on Bitcoin would for sure be a blow against its adoption. But people who need it to work, will be able to use it. Technological proof are solutions that combine the Bitcoin network and for instance a mesh network with a number of goTenna devices as you can see below.
Already in 2019 I spoke with Richard Myers of Global Mesh Labs about the possibilities to use Blockstream's satellites with mesh networks to enable sending and receiving bitcoin offline.
---
6 Pressure Against Proof-of-Work Growing in Europe
Members of the European Parliament want to push a framework that would outlaw proof-of-work in a regulation of "Markets in Crypto-assets" (MiCa) proposal. Concerns over PoW chains carbon footprint is pushing the market towards greener options.
One MEP said: "the EU cannot afford to legitimise cryptocurrencies which are generated in a way which is absolutely negative for the environment. We propose a stop of the use of the underlying technology (PoW)", he said, in favour of alternatives which are more climate friendly (proof-of-stake) as the majority of cryptocurrencies are still mined "in a very high energy consuming manner, produced mostly via coals."
In April an industry coalition announced the Crypto Climate Accord, under which signatories have committed to progressively switch blockchains to be powered by 100% renewables by 2025.
The Crypto Climate Accord website states, that "The solution to making crypto green is not to mark individual tokens as green or not green. We want cryptocurrencies like BTC and ETH to remain 100% fungible. This is one of the primary benefits of crypto…..Proof-of-work consensus is here to stay. In this space, industry has an opportunity to leverage the transparency of blockchains themselves to measure just how much entire networks are powered by renewables."
We'll see where we go from here. I'm totally in favor of Bitcoin becoming 100% powered by renewables, but it won't be to the European Unions advantage to ban proof-of-work. The rest of the world couldn't care less and would go on building and using renewable energy for mining. It would be better, to regulate energy production in general. This week the German conservative parliament members voted against eliminating fossil fuel subsidies by 2025.
---
7 One of the Oldest Hydro-Power Stations in the
Usa

Is Mining Bitcoin

"We think this is the oldest renewable energy facility in the world that's still running," said Jim Besha Sr., CEO of Albany Engineering Corp., which owns the Mechanicville hydroelectric station, built in 1897. After years spent rebuilding the plant that was abandoned by National Grid, it is now back to full power. It is using all the original 1800s machinery, not enough for a lot of profit, which is why some of the plant's energy is being used to mine bitcoin. "We can actually make more money with bitcoin than selling the electricity to National Grid," Besha said. "We're just doing it on the side, experimenting with it. We're buying used servers."

The thousandths of a bitcoin they make each week are converted to cash, rather than holding onto it. Jim Besha is skeptical of bitcoin as a long-term investment; He'd like to make more money selling renewable energy to be used as energy. But that effort has been marred by decades of fighting with National Grid.
Although the minted bitcoin are instantly converted to cash, this story is a great example of a situation where Bitcoin enables new creative solutions for a problem. A historic building could be restored, some workplaces saved and renewable energy is used to mine bitcoin.
---
Subscribe to (L)earn Bitcoin
Subscribe for my weekly newsletter. It's free.
---
If you want to check, here is today's Bitcoin price.
No financial advice. DYOR.