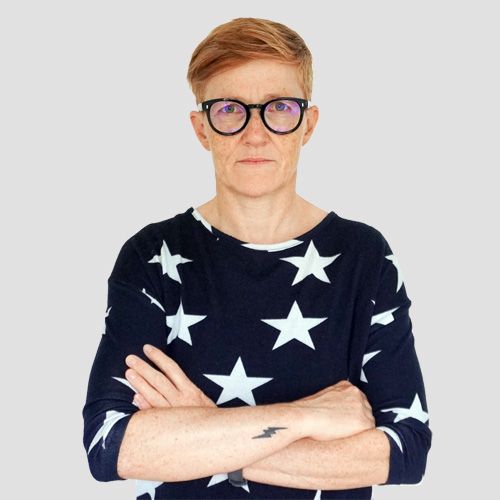 Anita Posch
Anita Posch is a renowned Bitcoin educator, author, and founder of the online academy Crack the Orange as well as founder of Bitcoin for Fairness, a non-profit organization that has a strong focus on Bitcoin adoption in the Global South through education, knowledge sharing and capacity building on the ground. 
Bitcoin for Fairness works closely with human rights organizations as Anita's focus is on promoting Bitcoin as a tool for financial freedom and inclusivity, as well as educating individuals concerned with digital privacy and self-sovereignty.
Through her Bitcoin podcast, YouTube channel, book (L)earn Bitcoin as well as her digital learning platform Crack the Orange, Anita aims to inspire people worldwide, unleashing their creativity and innovation with the freedom to exchange value privately and securely. Her work with Bitcoin for Fairness has been widely recognized, and her efforts have been featured in various international Bitcoin and traditional media outlets, including Bitcoin Magazine, CoinDesk, What Bitcoin Did, Bayern2, Deutschlandfunk, Radio FM4, and ARD television. 
Anita released "Crack the Orange" a roadmap to financial freedom in August 2023. It's an online learning program for individuals focusing on Bitcoin self-custody and privacy. Community leaders and aspiring Bitcoin educators can apply for a scholarship to take the course and earn a certificate.
See what BFF has achieved in 2022.
In early 2017 she attended a talk about Bitcoin and open blockchain technology and the positive impact it could have on society. She realized that a technology which is permissionless, inflation-proof and a global internet money could free billions of people, disenfranchised by current financial power dynamics. Bitcoin is unstoppable money that can be used by anyone regardless of who they are. It's neutral, not controlled by any company or government, while at the same time being an internet protocol, financial rails that is built for a common good.
In early 2020 she was the first Bitcoiner to visit Zimbabwe to research the country's monetary situation as well as the adoption rate of Bitcoin and to report on the results in her podcast. The goal was, through interviews, to build a bridge between people who live under flawed democracies or authoritarian regimes to the rest of the world and to show how Bitcoin could improve their living conditions and financial freedom.
Bitcoin is money from the people, for the people. Its mathematical rules can't be corrupted - neither by governments nor by billionaires. This guarantees a level of fairness which cannot be achieved in traditional human driven systems. It gives underprivileged individuals, such as people from developing nations, women, and oppressed minority groups, the chance to participate globally in a free and private manner with each other. This freedom to exchange value, unleashing people's creativity and innovation, is what drives Anita Posch.
Bitcoin might be our only tool to secure the human right to privacy and freedom of transaction. It's a medium of liberation for billions of people and a defense mechanism for privacy in our ever more digital lives. — Anita Posch
In her podcast she discusses use-cases and the ideas behind Bitcoin with industry leaders and people with interest in open blockchain technology. The main topics are about Bitcoin in the context of financial inclusion, human rights, and privacy.
Her guests include Andreas M. Antonopoulos (World-renowned Bitcoin educator, author and speaker), Adam Back (CEO Blockstream and cited in the Bitcoin and Tor whitepaper), Tuur Demeester, Jameson Lopp (CTO Casa), Alena Vranova (former TREZOR and CASA), Caitlin Long (Founder/CEO AvantiBT, Wyoming Blockchain Committee), Dan Held (Growth Kraken), Elena Tonoyan (COO LocalBitcoins), Ray Youssef (CEO and Founder of Paxful), Nic Carter (Coin Metrics) and many more.
Anita Posch regularly tweets on https://twitter.com/anitaposch.
If you like my work, please consider donating or becoming a patron.
Find out what I am doing now and why you should also have a now page.