1 Thought of the Week
Last week I wrote about Bitcoin being sent without Internet to the moon and back. This week a new epoch has begun. El Salvador made bitcoin legal tender on June 9, 2021. Bitcoin is now a supranational, global currency.
---
2 Quote of the Week
"Bitcoin would be convenient for people who don't have a credit card or don't want to use the cards they have, either don't want the spouse to see it on the bill or don't trust giving their number to 'porn guys', or afraid of recurring billing." - Satoshi Nakamoto
---
3 Bitcoin Is Legal Tender in El Salvador
In El Salvador Bitcoin and the US Dollar are legal tender now. This is a form of money that has to be accepted by businesses for customer purchases, by banks for paying back debt and can be used to pay taxes. Some Twitter users expressed their concerns that Bitcoin is forced upon the people of El Salvador, which doesn't align with Bitcoin's ethos as being a voluntarily chosen alternative. While I agree with Bitcoin's voluntary character I find the El Salvadoran solution good and only vendors are obliged to accept BTC if the customer wishes. In private exchanges there is no obligation.
How It Works
People can use any kind of Bitcoin wallet that is available. For people who want and need assistance the government will provide a wallet, developed by Strike, in which bitcoin is converted automatically to USD, if the user wishes. For this a national trust fund will be set up that will buy people's bitcoin in exchange for USD. This way the country is slowly building a stack of BTC. They allocated $ 150 million for this fund. It's auto dollar cost averaging on a large scale. As long as one can choose his or her own wallet freely, the exchange rate is fair, the government can't interfere or censor transactions and as long as there are no additional fees or taxes deducted - I find this a good solution. USD will stay the accounting currency. The President said live on Twitter Spaces, that their goal is not to de-dollarize El Salvador. It's a way of attracting businesses and technology to the country.
The Man Who Started It All
President Bukele expressed his gratitude towards Michael Peterson, the initiator of Bitcoin Beach, a project that brought education and the first Bitcoin companies like Jack Maller's Strike to El Salvador. I talked with Michael a few days before and asked him about the use cases for Bitcoin in El Salvador.
Volcano Mining
When asked, if El Salvador started mining the President explained that they have geothermal energy plants and this might be possible. Only a few hours later he tweeted, that the state owned geothermal electric company will put up a plan to mine with very cheap, 100% clean, 100% renewable, 0 emissions energy from their volcanos.
Domino Effect
Rumor has it that Paraguay will be the next country to follow El Salvador's example. We will see.
Since President Bukele has laser eyes on his Twitter profile - a sign for being pro-Bitcoin - a lot of politicians of Central and South American nations followed. All of them are young males except Indira Kempis a Mexican senator.
El Salvador Human Rights
Which brings me to the last point I want to make around this topic. El Salvador is a very poor country with 6.4 million inhabitants. After a long period of chronic political and economic instability characterized by coups, revolts, and a succession of authoritarian rulers, persistent socioeconomic inequality and civil unrest culminated in the devastating Salvadoran Civil War from 1979 to 1992 fought between the military-led government backed by the United States, and a coalition of left-wing guerrilla groups. While this Civil War was going on large numbers of Salvadorans emigrated to the United States, and by 2008 they were one of the largest immigrant groups in the US. That's why remittances are so important for the country.
President Bukele's political ideas are very different from mine - he's strictly anti-abortion even in case of rape, anti-same sex marriage and 62% of Salvadorans believe that homosexuality should not be accepted by society. While I don't like that, in case of Bitcoin I applaud the country. I'm convinced that Bitcoin will empower the people economically and hope that the fresh ideas the President wants to get into the country will also bring a more open society and human rights.
First International Reactions
After the announcement of El Salvador's plans to make bitcoin legal tender at Bitcoin2021 conference in Miami, Donald Trump said in an interview that "Bitcoin seems like a scam" and that "Bitcoin is a currency competing against the Dollar" - so what now? A scam or a currency? I mean, who is interested in what he is saying anyway.
Aaaaand then we heard US Senator Warren saying, what's happening in cryptocurrencies like Bitcoin AND Dogecoin is reminiscent of the Wild West, an environmental disaster, not a good investment and there will be more regulation around it.
Now Republicans and Democrats have a common enemy. Guess that's a good sign for Bitcoin. Joke aside. I'm really not sure, what the next reactions of the incumbents of the old system will be. I can imagine economical sanctions, political pressure, and a lot of FUD stories. Be prepared.
4 Taproot Will Be Successful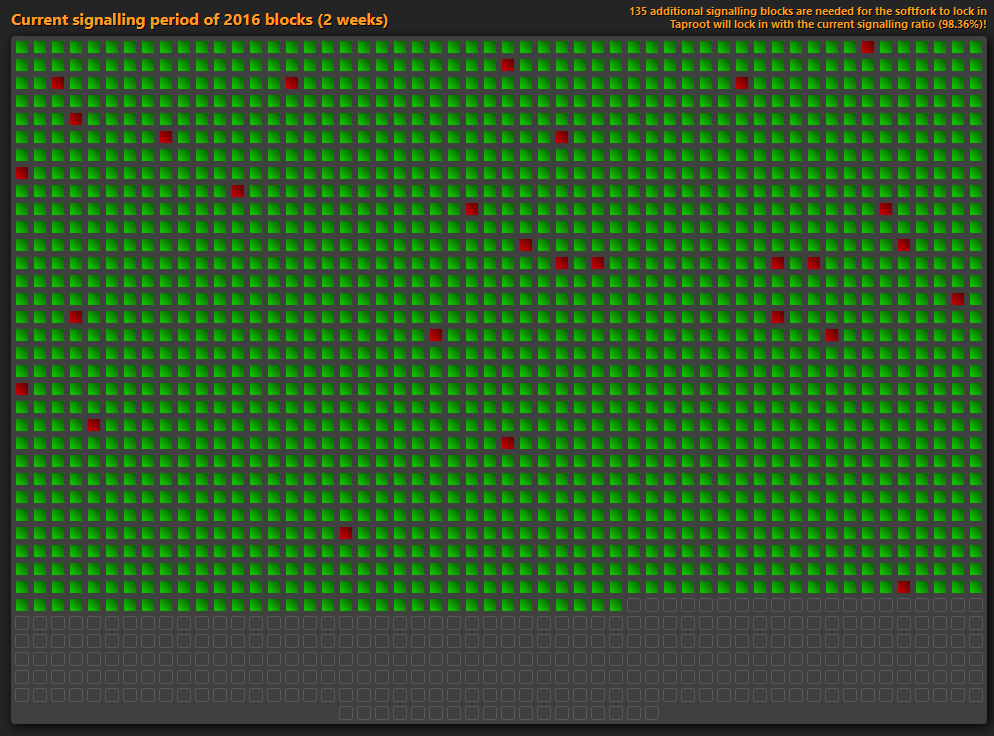 Almost all blocks are signaling green on https://taproot.watch! According to my calculations Taproot will be locked-in this Sunday. Another great step in Bitcoin's development, strengthening privacy and improving scalability. In November the changes in the software will go into effect.
What a week! And these were only the two main stories. My personal main story is that I finished my manuscript for my book (L)earn Bitcoin the same day that bitcoin became legal tender in El Salvador. So it's not only a new epoch for Bitcoin, but also for me. The book will be published in a few weeks. If you want a notification, where to buy, subscribe to my mailing list at https://anita.link/weekly
---
Subscribe to (L)earn Bitcoin
Subscribe for my weekly newsletter. It's free.
---
If you want to check, here is today's Bitcoin price.
No financial advice. DYOR.