This week Bitcoin reached almost a new all-time-high. For the first time since December 16, 2017, the bitcoin price was only 2 percent under the ATH. I can remember being totally fomo-ed back then. I was in hospital and woke up from a big surgery. The first thing I did as soon as I could do anything was to get my laptop and buy bitcoin. It was crazy, because I couldn't think clearly. Afterward, I was scared that I might have mis-typed the bitcoin receive address and that the funds would go into Nirvana. Which it did not in the end. A few weeks later the price plummeted and one year later the price was only 3,000 USD. Many people have sold their bitcoin at a loss in that time. I did not. Because I have always been interested in Bitcoin as a profound new technology that enables direct financial relationships between people. Without banks, and without the fractional reserve banking system that is a Ponzi scheme.
What Is the Difference Between the 2017 All-Time-High and Today?
Three years ago there was a massive hype in the media. Everyone was talking about bitcoin. The so-called retail investors aka the ordinary people bought bitcoin and anything that promised even higher returns. Many Initial Coin Offerings (ICO) were taking place, that siphoned off the money of people. Only some of them profited. Many of those ICOs were a loss-making bet. In 2020 there is no hype in the mainstream media, no ICOs, no tulip bubble FUD - until now.
Bitcoin's Intrinsic and External Factors Make the Difference
On the Bitcoin side, the infrastructure has been growing. Like rails for a train network the bitcoin network expanded. For example: The number of reachable Bitcoin full nodes has been up 6.3%.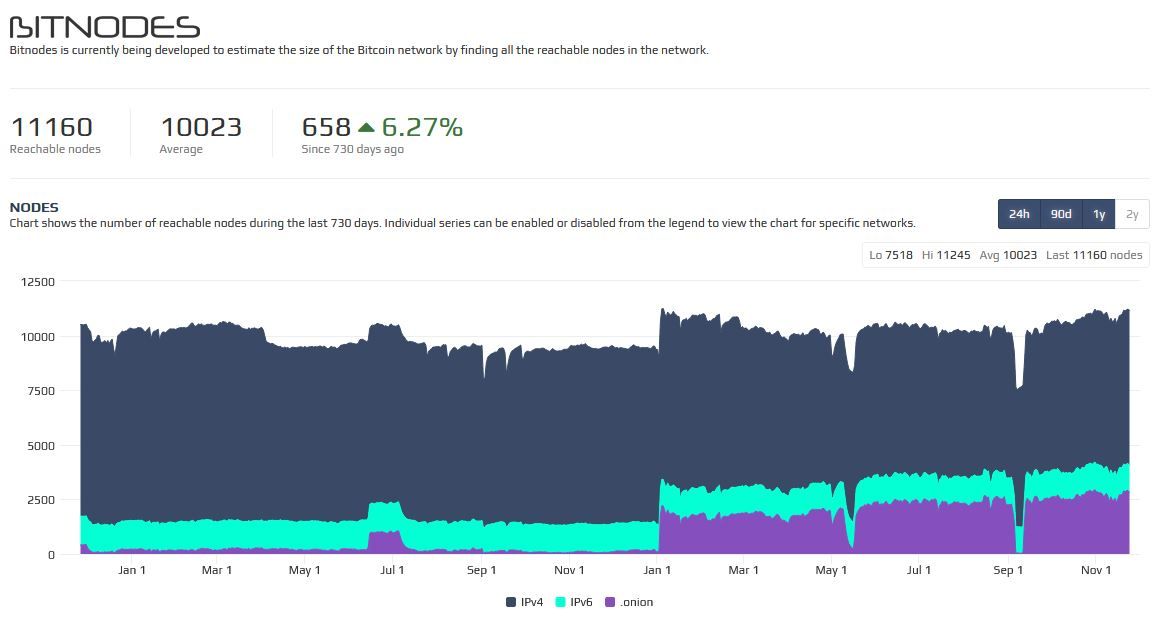 Growth of Bitcoin nodes
The number of active bitcoin addresses on average went from 600k to 1M and the hash rate tripled in the last two years. Second layer solutions like the Lightning Network or Liquid are getting more and more adopted.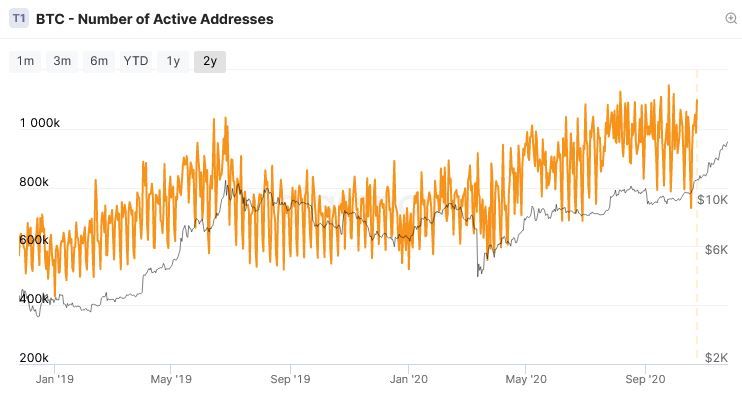 Growth of bitcoin addresses
Cryptocurrency exchange Kraken was the first true crypto bank that received the Wyoming banking license. Followed by Avanti Financial Group, founded by Caitlin Long. These crypto banks are full-reserve banks. That means they will never need a bailout. Quite the opposite of the traditional banking industry.
Aside from infrastructure changes with Cynthia Lummis, Wyoming's U.S. Senator-elect there will be a declared Bitcoiner in the US senate.
Institutional investors, family offices, and corporations have been entering the bitcoin market. Michael Saylor from MicroStrategy was one of the first to speak about his 425 Million
USD
cash holdings transfer to bitcoin. Paul Tudor Jones admitted investing in bitcoin and Ray Dalio asked his Twitter followers about what he might miss because he does not understand bitcoin. Hedge fund manager Stanley Druckenmiller validated cryptocurrency as an asset class worth learning more about. In 2020 Bitcoin became digital gold, a store of value and hard money for many institutional investors.
Adding up there are external factors. With the corona crisis and the reaction by central banks and governments to print more money, it is clearer than ever, that the money supply is being inflated. Which in the end leads to a depreciation of the money value. People are more and more asking where the money comes from in the end. There is a shift in consciousness. People realize that more new money does not solve our debt problems. And the fresh money supply does not reach ordinary people. It goes to the banks, which will give it out as credit. But only people with assets get credit to buy a property or found a company. The only winners are the banks and the wealthy. A scarce asset like bitcoin is a possible exit even for people without deep bags.
The current price movement is triggered by the trades of institutional investors. Numbers show that current buyers operate Monday to Friday to western business hours. There is a liquidity crunch in the making. There are not enough coins at exchanges, which will lead to higher price movement.
This means, that the real rally is yet to come. This is the beginning. Ordinary people have not yet grasped that bitcoin is not dead. It is the chance for the greatest wealth transfer the world has seen. I hope less privileged individuals will take their share of bitcoin now. 2021 is going to be a wild ride.